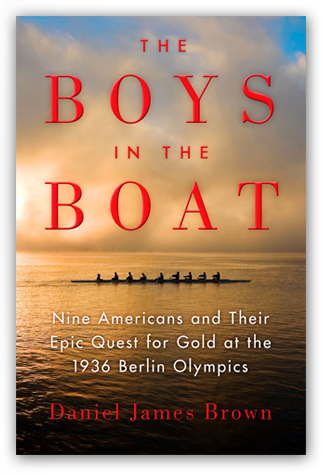 Effective leaders know the emotional capabilities of their team members. They know their strengths and insecurities. They know when to push and went not to. One challenge is to understand how deep one's well of strength is. This past week when we lost Maya Angelou I listened to an old interview in which she talked about her life, which had very difficult early years. If anyone had a deep well of strength, it was she.
I often wonder why some young people overcome early abuse and challenges and some don't. And this brings me to Boys in the Boat.
I just finished reading Boys in the Boat. This is really two inspiring stories in one. The first is about the 8-man University of Washington crew that rowed for a gold metal in the 1936 Olympics in Berlin. And while this is a great story about teamwork and how the "boys" in this crew prevailed in front of Hitler, it is the second story that really grabs your heart. That one is about one of their strongest members, Joe Rantz, who had a remarkable well of strength.
The Crew's Success and Gold Metal. I really knew very little about rowing as a sport until I read this book. The Boys that won 1936 Olympics were in a boat with eight rowers and one coxswain. There are also races with single rowers, two rowers, and four rowers. It is mostly a team sport that requires strength, coordination, technique, stamina, and mental toughness.
The Boys, who rowed together most of their career and were all underclassman at Washington, spent most of their time in practice. Over their career together they would race only 28 miles, but row a total of 4,344 miles and 469,000 strokes or about 107 strokes per mile.
Their coach, Al Ulbrickson, who was very quiet, had great insight into human nature and was very skilled at matching the talents and strengths of rowers. Like syncronized swimming, rowers must be in complete sync to win. And Ulrickson knew how to sync the rowers on each boat.
The 1936 Olympic race was 2000 meters long (about 1.25 miles) and took 6 minutes and 25 seconds. These Olympics were in Berlin and were set-up by Hitler to try and fool the world about what a great and open country Germany was. The Germans tried to fix the race by placing the U.S. and British teams in lanes that had the worst wind and waves. But in the end, much to Hitler's dismay, the Boys won by six-tenths of one second over Italy and one second over Germany (See photo of the finish to see how close the finish was.)
Joe Rantz – A Well of Strength. The real human interest story in this book is about Joe Rantz. Joe, who is standing second from the left in the team photograph, emerged as the strength of the team. Ulbrickson, at his retirement in 1959, recalled how when he put Rantz in the Olympic boat in 1936 he could see the boat "take-off." What really captures our hearts, though, is to read about Joe's life up to that point.
Here are just a few notes: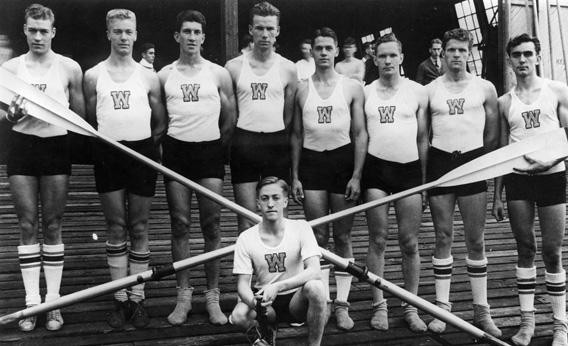 His mother died when he was only four. His grief-stricken father, Harry, sent Joe from Washington to live with an eastern aunt, where he lived in an attic and contracted scarlett fever.
When Joe is seven, his father re-emerges and re-marries, and Joe goes to live with them. They have three additional children. Faced with many domestic pressures of the time, the second wife tells Harry to choose between her or Joe. Harry chose her and arranged a deal with the local, one-room school headmaster for Joe to live at the school in exchange for chopping wood and maintaining the fire. To eat Joe had to work in a local kitchen in exchange for food. Joe was 10 years old.
The family later reunited only for Joe to be abandoned again – this time the family drove away from a house they had built and left Joe sitting on the front steps. He was 15. He would remain there living on his own until he graduated from high school.
By the time Joe was in high school he had a true love, Joyce. She seemed to instill in Joe a life purpose and she was always supportive because she knew how often he had been abandoned. They both went on to the University of Washington and had to work their way through college (they didn't have scholarships for sports then.) Joe lived in very poor conditions, but he was used to that.
During his rowing career, Joe's boat won every race it entered including the Olympic Games in 1936 and the IRA Regatta in 1936 and 1937. He graduated with a degree in chemical-engineering in 1939 and married Joyce right afterwards. He later worked for Boeing, where he designed elements of the B-17 used in the war effort. Later in his career at Boeing he worked on numerous NASA projects. Joe Rantz died in 2007 at age 93.
When I finished the book I came to understand how Joe filled his well of strength. Why don't you pick-up the book for a good summer read and share with me what you think!
Comments